Born on September 9th 2000
7 females and 1 male: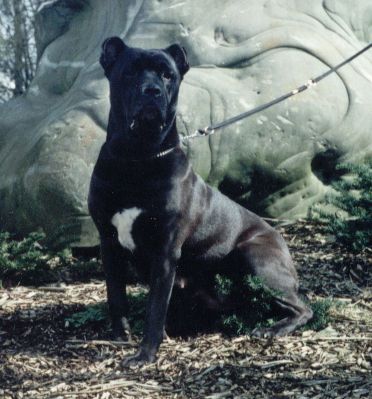 Delilah Goliath's Warrior Délano
After a long selection period,
we've found the perfect stud for our Delilah (H.D. A).
H.D. Certificate:

Dutch Champion
Luxembourg Champion
J. Winner Amsterdam 1998
Deutsche Bundessieger Zuchtschau 1999
Goliath's Warrior Délano HD T.C. /B
Born: 14-12-1997
Owner: Fred & Pauline van Hartskamp
Breeder: Chiaro E Tondo Kennel (used to be called: Goliath's Warrior)
Dam: Dutch Champion Maia HD ± / C


(owner: Eric & José de Vries)

Sire: Ayrton (alias Retico) HD T.C. / B

We choose for Délano, because next to Délano himself,
both his parents are officially x-rayed with good results.
He's also a very loving dog with a great character
and that is very important to us.
Besides that, he also has wonderful results on shows
in and outside The Netherlands.
He's Dutch Champion, Luxembourg Champion & VDH Champion
J. Winner Amsterdam 1998 and
German Bundessieger Zuchtschau 1999 & 2001
Winner Amsterdam 2000 & 2001 & 2002
The first Dutch HD A Cane Corso is from this litter.
Nancy Koper
canecorsonancy@outlook.it