Born January 22nd 2004
3 males & 6 females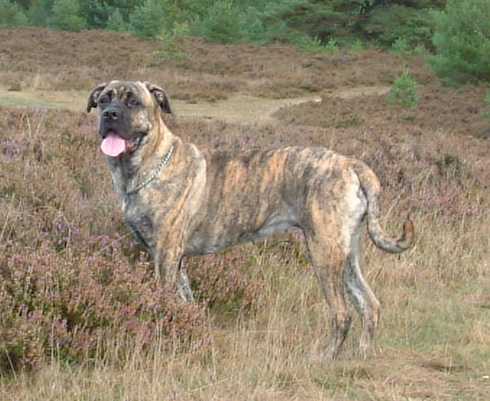 [ Puppy pictures ]
Stefany is the daughter of Tdelilah (HD A) and It.Ch. Ciro (HD A) SchH1,2&3. Both Tdelilah as Ciro have a temperament full character. This was also passed on the all the pups from this litter, which makes our Stefany also a very temperament full dog. Ciro is mainly used for studs in Italy to preserve the original Cane Cane character and a good health in the breed. The results are very active dogs, who really want to work for their owners.
Tdelilah is also the mother of Ch. Stella and has produced excellent health, hip and elbowresults.
Ch. Ciro is a Campione Riproductione, meaning that he sired several champion in different combinations.
Timber has prooven to produce very good looking and healthy pups with great characters, in his breeding with Stefany's halfsister Magic (both have Tdelilah as their mother). More information about those pups and their results on www.canecorsonancy.com/blusteel
Timber's father is: Ch. Rocky

Rocky also sired: Ch. Akira (also known as Baby) Akira is: VHD Champion (German Champion) VDH Europasieger 1999 5 x BOB / 6 x CAC / HD C / ED free
Ch. Stonecroft's Corina is Timber's full sister.
Rocky is bred by Leone and comes from working lines. There is not that much know about his bloodlines, because Leone breeds working dogs and his dogs do not compete at many shows.
Because Rocky comes from working lines, a natural selection has taken place. A dog which has no working abilities is not good enough to breed with. And a dog with poor movement is also not good enough to continue his bloodlines. Health and character are very important for workingdogs. Rocky comes from healthy bloodlines, with excellent character.
Besides his working abilities, Rocky is a very beautiful male, who is a wonderful example of a Cane Corso accoding to the FCI breed standard.
Timber's mother is Medea (no picture available)
Medea is known for her excellent health, which she passes on to her pups.
Medea is closely related to Ch. Malvasia HD A (known as Asia), who is the mother of Ch. Evita (second best bitch Open Class, World Dog Show 2002).
We expect the pups from Stefany and Timber to be a very temperament full. Experience with dogs, preferable Molossers, Pinschers or Schnautzers will be a must for the new owners. The pups from this litter will be very suitable for agility, obedience, tracking and other activities for owner and dogs. A Cane Corso, the way the Cane Corso was meant to be.
Nancy Koper
canecorsonancy@outlook.it