6 males & 3 females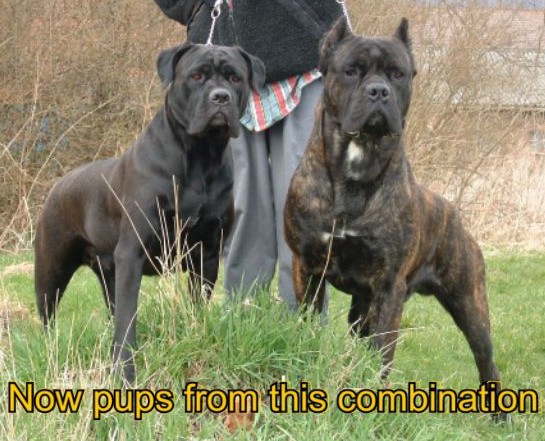 7 years of bloodline studies, finally together in 1 litter
[ Puppy pictures ]
Litter information:
Bayos Dei Silvanbull (HD B):
Youth World Champion 2002
His father: Ch. Paco, World Champion 1999, Italian, Finnish & VDH (German) Champion
His mother: Queen, BJS 2000, full sister of Ch. Nestore (Italian & Youth World Champion 2000)
daughter of Ch. Ettore, Italian & European Champion
Stella (HD C / ED Free):
Dutch Champion / Winster 2003
Her father: Ch. Goliath's Warrior Délano, HD tc, World Champion 2003
[ More info about Bayos' pedigree & ancestors ]
The perfect Cane Corso for us, is a dog with an outstanding character (sweet as a pet, but still having the typical Cane Corso character, to preserve the breed's working abilities), great health (good hips and overall health), great looks (the ultimate challange) and great bloodlines (good ancestors in health, character and looks, to be even more sure of perfect quality Cane Corsos when we continue with these bloodlines).
For more information about our Stella, visit her own site: http://www.canecorsonancy.be/stella
There you will find many pictures of her growing up till what she is today, her showresults, her pedigree and much more information about her ancestors and of course her hip and elbow ratings.
[ Stella's photogallery ] [ Stella's showresults ]
[ Stella's pedigree ]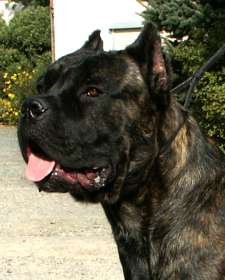 Stella & Bayos Dei Silvanbull
[ Puppy pictures ]
Or visit the puppy's own websites:
La Grazia Di Dio Chiara Di Stella
La Grazia Di Dio Ozzy
La Grazia Di Dio Mambo
La Grazia Di Dio Stinus
La Grazia Di Dio Aïcha
La Grazia Di Dio Boogie
La Grazia Di Dio Django di Leon
La Grazia Di Dio Marsis
La Grazia Di Dio Ef Vijf Blusteel (AKA F5)
Nancy Koper
canecorsonancy@outlook.it