Pups born 29 February 2020
El Mesquita Hanna Bella X Virgo Delle Principesse De I Giacchini
8 males & 2 females

We have several males available
EM Hanna Bella is bred by Roy Rojas. Due to her specatular bloodline, which is difficult to find in Mexico, Roy offered me to co-own Hanna, since I live in Italy, where there are more suitable studs available for her.
Hanna is a very relaxed female. When I took her from Dallas to Manhattan by car, I would not have guessed she was not used to travelling. In Mahattan she behaved like she was used to all that traffic and people! While she grew up on Roy's farm, where there is no traffic. Hanna knows to adjust to any situation!
On the Raduno Dell'Anno 2008 we met Virgo Delle Principesse De I Giacchini. Roy saw asap that Virgo had the bloodline he was looking for, for Hanna. Virgo is the grandson of Baronessa (Morpheus x Nora), bred by Sandra Schmidt. Baronessa is the sister of Bella Bionda, the great grandmother of Hanna. This was the type and blood Roy was looking for. Besides that Virgo is an amazing dog, with a great stable character. He has CAL 2 and is 1 point away from his Italian Championship.
We did the combination Hanna x Virgo in 2019, which resulted in only 2 females, Monte and Goldie. Roy has Monte and I kept Goldie. Both of us are extremely happy with them. But we really both wanted a male from this combination. So we repeated the combination, which resulted in 8 males and 2 females.
Here's a picture of Goldie, 7 months old in this picture, from last year's litter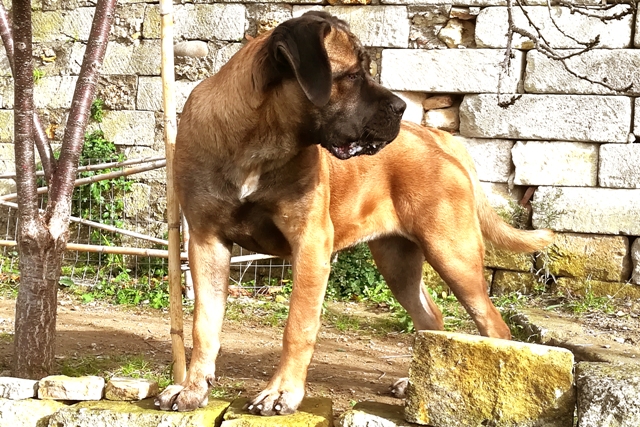 For more information contact us at
canecorsonancy@outlook.it
or contact us on facebook
facebook.com/canecorsonancy/

Previous La Grazia Di Dio litters:
Olga di Castrignano X Leone Dei Volsci
El Mesquital Hanna x Virgo Delle Principessa De I Giacchini
Olga di Castrignano x El Mesquital Vespucio
La Grazia Di Dio Affinity x Ch El Mesquital Zac
Victoria/Tory x Ch El Mesquital Zac
Victoria/Tory x Max Steel Castrignano
Olga Castrignano x Molock di Re Manfredi
Victoria/Tory x Achille
Victoria/Tory x Black
La Grazia Di Dio Joline x Molock di Re Manfredi
La Grazia Di Dio Joline x Diuk
Diuk x La Grazia Di Dio Chiara di Stella
Ch. Stella x Ch. Fauno Degli Elmi
La Grazia Di Dio Chiara di Stella x Ch. Fauno Delgi Elmi
Stefany x Chiaro E Tondo Joekel
Ch. Stella X Ch. Federico Dei Re Di Roma
Stefany X Italian & Vice World Ch. Bayron
Ch. Stella X Italian & European Ch. Ettore
Stefany X StoneCroft's Timber
Ch. Stella X Youth World Ch. Bayos Dei Silvanbull
Delilah X Ch. Ciro
Delilah X World Ch. Goliath's Warrior Délano
Nancy Koper
canecorsonancy@outlook.it